Just Released: Mid-Year Viewpoint 2019 Jul 30, 2019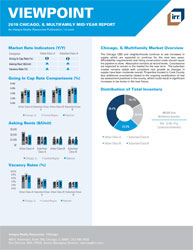 FOR IMMEDIATE RELEASE
Just Released: IRR's Viewpoint Mid-Year Commercial Real Estate Reports
More than 260 Local Market Reports Explore CRE Values and Trends Across Five Key Property Sectors
DENVER, CO— (July 30, 2019) — Integra Realty Resources (IRR), one of North America's largest independent commercial real estate valuation and consulting firms, today released its highly anticipated Mid-Year Local Market Reports—a supplemental update to its flagship Viewpoint 2019 report released in January.
In total, 268 detailed local market reports covering 61 U.S. markets across five property types have been released, along with a Mid-Year Viewpoint 2019 Rates Data Table (Excel) and Mid-Year 2019 Viewpoint Market Cycle Charts. These publications and all other IRR research can be downloaded for free at www.irr.com
"We are proud to offer these insightful mid-year market reports to our valuable clients and partners who count on them to make informed real estate decisions," said Anthony M. Graziano, MAI, CRE, CEO of Integra Realty Resources.
The local reports provide a detailed overview of the local commercial real estate market and are packed full of market stats and insights. To find a local office's Local Market Reports, just visit the research section of the respective local office's webpage on irr.com. For example, the IRR-San Francisco Mid-Year Market Reports can be found at irr.com/SanFrancisco/Research
Below are a few highlights from the more than 260 local market reports released.
IRR Viewpoint Mid-Year 2019 Report Highlights
For more information about these mid-year reports, or to access additional IRR research, please visit our online research section at www.irr.com/research/