Just Released: Viewpoint 2018 Jan 29, 2018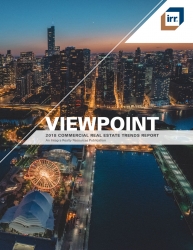 FOR IMMEDIATE RELEASE
Integra Releases Annual Viewpoint Report:
Cautiously Optimistic Outlook for CRE into 2018
Signature Report Highlights National Property Trends & Forecasts Across All Property Sectors, Plus Specialty Property Reports on Marijuana, Senior Housing, Golf & Caribbean Hospitality
DENVER, CO — (January 29, 2018) — After years of unprecedented growth, the commercial real estate outlook is cautiously optimistic, with moderate, steady growth forecasted for the year ahead, according to Integra Realty Resources' (IRR) signature Viewpoint 2018 publication. The annual report provides a detailed overview of the local and national commercial real estate market across five key property types including, office, industrial, retail, hospitality, and multifamily. Viewpoint 2018 also examines trends from the economy, interest rates, capital markets, and housing and how these trends will affect commercial real estate markets in the year ahead. This year's specialty property sector analysis covers the emerging Marijuana Real Estate sector, Senior Housing, Golf Courses and Caribbean Hospitality.
"For 25 years, our clients have relied on this report to make more informed commercial real estate decisions," said Anthony M. Graziano, MAI, CRE, Chairman of Integra Realty Resources. "Whether or not the economy can maintain forward motion is the definitive question in the year ahead. In this year's report, we explore the major factors impacting continued economic expansion and a few of the key challenges and opportunities that face the commercial real estate market."
The highly anticipated report was produced in partnership with well-known veteran commercial real estate economist, Hugh F. Kelly, PhD, CRE, who added, "In the short term, we find the commercial property markets solidly in their 'expansion phase' in most areas of the country, but now is the time for real estate owners and investors to begin thinking about defense strategies. However, it should be a less severe downside for the commercial real estate industry than the downturn in 2008 thanks to more disciplined buyers."
IRR Viewpoint 2018 Highlights
2018 National Themes
While 2018 will see continued economic growth, signs of excess that trigger market corrections are starting to accumulate. Tracking three "final demand predictors," essentially limits to further economic development, including: job growth, which has been shifting into lower gear; incomes, which aren't rising enough to spur the final predictor, consumer spending.
Housing, interest rates and the 2017 Tax Act: Gradually increasing interest rates and new limits on the deductibility of mortgage interest will negatively impact new homebuyers.
Shifts in the economy benefit some property types, for example, continued growth of service and e-commerce sectors have bolstered demand for office and warehouse properties.
Cautionary capital markets: Even with a slower market, commercial property prices rose on average 8.4%, suggesting more careful selection rather than any withdrawal of capital is what is shaping the commercial real estate investment marketplace.
Office
The office sector posted another year of solid absorption. Heading into 2018, 48.4% of suburban markets are in expansion, the highest since the financial crisis. The shift from downtown to suburban properties reflects a realization that CBDs have essentially become fully priced.
The decline in office transaction volume, an overall drop of 6% to $94.5 billion through the first three quarters of 2017 is evidence of greater buyer discipline.
Top Markets (ranked by year-over-year transaction growth rate):

1) Houston, TX
2) Memphis, TN
3) Columbus, OH
4) Westchester, NY
5) Cleveland, OH

2018 Outlook: More markets expect cap rate increases in 2018 than in years past. Expense growth rates are forecasted to increase by 2.5% in 2018. Values are expected to increase more than 2% in 38% of markets.
Industrial
Driven by Ecommerce and global trade, this sector continues to be a capital magnet. Entering 2018, the industrial property sector has outperformed all other property types with their double-digit total returns, high absorption rates, rising occupancy and rent growth.
From 1Q through 3Q 2017, industrial transactions totaled $51.8 billion, up 23% over the same period in 2016, and up 18% in deal count (4,866).
The majority of national markets (83%) are in expansion mode. Four markets are expecting 5% market rent growth: Cleveland, OH; Hartford, CT; Naples, FL; and Seattle, WA.
Top Markets (ranked by YOY transaction growth rate):

1) Kansas City, MO
2) Westchester, NY
3) Sacramento, CA
4) Birmingham, AL
5) DC Metro

2018 Outlook: More than half (57%) of industrial markets are 'in balance' compared with 41% of flex industrial markets. On average, industrial markets are calling for a 2.64% increase in market rents and 2.55% increase in expense growth rates through 2018. Only 15% of industrial markets are in the recovery market phase.
Retail
Retailers continue to be disrupted by ecommerce, along with shifting demographics and consumer spending habits. Trading velocity continues to slow in retail sector.
Aggressive asset management versus portfolio growth is the key to success for retail investors.
Retail transactions totaled $46.9 billion through 3Q 2017, a decrease of 19% from the year before. The largest drop in transaction volume ($15.8 billion) was in the East region.
Majority of markets in the West region (78.6%) are in expansionary market cycle phase.
Top Markets (ranked by YOY transaction growth rate):

1) Las Vegas, NV
2) Stamford, CT
3) Broward, FL
4) Austin, TX
5) Hartford, CT

2018 Outlook: More than half (66%) of national markets are considered 'in balance' and an additional 25% are within two years of becoming 'in balance.' On average, markets are expecting a 2.2% increase in retail market rents in the next 12 months. With strong cap rate compression in prior years, 74% of markets expect cap rates to remain stable in 2018.
Hospitality
After several surging years during an eight-year bull cycle, the hotel market appears to be losing momentum. Fundamentals remain strong enough to forecast stable, but slow growth through 2018.
Hospitality transaction volume slipped in the past year to $31 billion through Q3 2017, down 25% from the previous year.
The majority (90%) of markets nationally are in expansionary market cycle phase.
Top Markets (ranked by YOY transaction growth rate):

1) Charlotte, NC
2) Broward, FL
3) NYC Boroughs
4) Memphis, TN
5) Jacksonville, FL

2018 Outlook: IRR anticipates asset value growth in 75% of hotel markets. Cap rates are forecasted to remain constant in 71% of markets. Market rents will grow at 3.3% in 2018.
Multifamily
The rental apartment sector continued to push forward. Single-family housing sector slowed as employment growth decelerated.
Overall transaction volume from 4Q 2016 to 3Q 2017 was $150.6 billion, down year-over-year by 9.8%.
The vast majority of markets (91.9%) are in expansion phase. A shift to hypersupply is being seen in Baltimore, Washington, DC, and Atlanta, where there is strong development volume.
Top Markets (ranked by YOY transaction growth rate):

1) Salt Lake City, UT
2) Stamford, CT
3) Portland, OR
4) Pittsburgh, PA
5) San Antonio, TX

2018 Outlook: Market rents will increase on average by 2.45%. Uptick in number of markets (24%) that are forecasting higher cap rates. Approximately 10% of markets are expected to post 4% or higher value increases in 2018.
IRR Viewpoint 2018 can be downloaded for free from IRR's website here. For more information about this year's report, or to access additional IRR research, please visit www.IRR.com