Just Released: Viewpoint 2019 Jan 30, 2019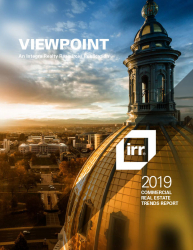 FOR IMMEDIATE RELEASE
2019's Economy Deserves a Cautious Approach, According to Integra's Newly Released Viewpoint Report

Annual Report Explores CRE Trends for Across the Nation, With Specialty Property Reports for Caribbean Hospitality, Auto Dealerships, Marijuana and Senior Housing
DENVER, CO— (January 30, 2019) — The post-Recession recovery years have seen unprecedented growth, but there's plenty of volatility and cause for caution in 2019, according to Integra Realty Resources' (IRR) signature Viewpoint 2019 publication released today. The annual report provides a detailed overview of the local and national commercial real estate market across five key property types: office, multifamily, retail, industrial and hospitality. Viewpoint 2019 also examines trends from the economy, housing, capital markets, interest rates and employment, exploring how these trends will affect commercial real estate markets in the year ahead. This year's specialty property sector analysis covers the evolving Marijuana Real Estate sector, Senior Housing, Auto Dealerships and Caribbean Hospitality.
"We are proud to bring this highly anticipated report back for its 26th year in production, as it's an integral part of our clients' annual business forecasting," said Anthony M. Graziano, MAI, CRE, Chairman of Integra Realty Resources. "As we leave 2018 with a greater level of uncertainty than which we entered, it's important to recognize that this increased uncertainty is mostly intangible. Current street conditions and major economic indices signal economic strength, but the market knows that the economy goes where the money flows. Some downside risks may lie ahead. We delve deep into this year's report to explore data, confidence levels, and a host of other factors impacting the U.S. commercial real estate market."
The report was produced in partnership with well-known veteran economist, Hugh F. Kelly, PhD, CRE, who added, "Though the middle quarters of 2018 saw a real economic surge, a lot of those gains were left behind by the end of the year. Trade policy and a downward revision in the housing outlook are going to have an industry-wide impact. Add rising interest rates to a flattening employment rate leads us to advise a cautious approach to 2019."
IRR Viewpoint 2019 Highlights
2019 National Themes
The 2017 tax cut legislation, coupled with $779 billion in Federal deficit spending, caused the economy to roar forward in mid-2018. However, that short-term bump didn't have much pass-through into wages or business fixed-investment. The consensus has growth flattening to 2.6% in 2019.

New housing starts are down, with a tightening of labor, lumber and land pushing a ripple effect into an already-softening market.

Capital markets are giving off mixed signals. While there is an abundance of investment capital, indices show heightened risk, sending investors into riskier territory.

Employment conditions are drastically shifting, where technology is married to labor insufficiency. The job gains enjoyed during recovery may slow, and trendlines require eagle-eyed focus as we move through 2019.

Most signs point to market sensitivity, demanding a defensive strategy.
Office
There was notable strength in the office sector, with occupancy reported at the highest level since the Great Recession.

Rents are rising 2 to 3% annually, with total returns through 3Q 2018 at 6.85%.

Income is rising fastest in the U.S. Central and South regions, but appreciation is strongest in the West.

As long as markets are on the upswing, investors will be driven by a search for higher yields. No matter the conditions, better buildings in stronger markets will get the most attention, helping to keep average rates stable.
Multifamily
There is no one-size-fits all approach to home ownership. With wide demographic appeal and diverse product, capital investment was up 8.6% YOY, with all major regions of the country seeing transaction volume rise.

Affordability is a hot topic, with a perceived advantage in lower-density product and increasing interest in older urban properties.

83% of markets are in expansion phase, and only Little Rock, AR, is in recession.

Top Markets (ranked by YOY transaction growth rate): 1) Cleveland, OH; 2) Columbus, OH; 3) Memphis, TN; 4) East Bay, CA; 5) Houston, TX.

2019 Outlook: For the most part, apartment markets are healthy and well-aligned with investor sentiment. However, expected weakening of the U.S. economy and employment trends are the challenges to watch.
Retail
Retailers continue to be disrupted by ecommerce, along with shifting demographics and consumer spending habits.

For all of 2018, volume may have seen a bump above $75 million.

All regions of the country are seeing growth, pronounced on both coasts and reasonably strong in the South.

Rents are on the rise in San Francisco, Houston and Long Island, NY.

Top Markets (ranked by YOY transaction growth rate): 1) San Jose, CA; 2) Baltimore, MD; 3) Manhattan; 4) Los Angeles, CA; 5) San Diego, CA.

2019 Outlook: 38 markets are in the expansion phase while 21 are in recovery. Markets are at or near equilibrium, with community centers leading the way (65.6% in balance) and neighborhood retail markets slightly weaker (59.4% in balance). The effects of the 2017 Tax Cut and Jobs Act remain to be seen; if refunds roll in, confidence will go up, with the opposite possible if additional tax is due.
Industrial
Warehousing, distribution, logistics and R&D/Flex properties fuel the 70% of GDP generated by personal consumption expenditures. This makes the enthusiasm surrounding this sector well-placed.

From Q3 2017 to Q3 2018, all regions of the country posted gains. Transaction volume was up 13.9% ($82.9 billion) YOY, on pace to set a record for this property type.

Four markets are expecting 5% market rent growth: Las Vegas, NV; Northern New Jersey; Houston, TX; and Cleveland, OH.

Top Markets (ranked by YOY transaction growth rate): 1) Richmond/Norfolk, VA; 2) San Francisco, CA; 3) Austin, TX; 4) Columbus, MO; 5) Minneapolis, MN.

2019 Outlook: As e-commerce expands, so will its needs. Look for value increases in 88% of markets, but keep a watch on two factors—possible supply and distribution disruption from a tightening tariff policy, and a possibly turbulent 2019 economy.
Hospitality
All key drivers (business travel, vacationers, trade show/conference attendance and international tourism) have pushed demand growth. This trend is forecast to continue.

81.3% of markets entered 2019 in the expansion phase, with the highest growth forecast for independent segments (+2.5%) followed by midscale, upper midscale and midscale.

Operators are focusing on what Millennials want: experience, authenticity, service/value and product/design.

Top Markets (ranked by YOY transaction growth rate): 1) Portland, OR; 2) Palm Beach, FL; 3) San Antonio, TX; 4) Phoenix, AZ; 5) Las Vegas, NV.

2019 Outlook: As of June 2018, 619,000 hotel rooms were under contract in the U.S. New demand will continue to exceed new supply. Strongest market performances are expected in Minneapolis/St.Paul, Miami, Chicago and San Francisco. Cybersecurity is anticipated to emerge as an industry threat.
Specialty Property Reports:
Caribbean Hospitality: Some markets are expanding, while those who were hit by the 2017 hurricanes are still suffering low inventory.

Healthcare and Senior Housing: Demand is increasing for the foreseeable future.

Auto Dealerships: Franchises are priced at near-record levels, but the market is sensitive to wider trends.

Marijuana Real Estate Sector: The industry's validation and evolution will continue with new markets and opportunities, and a swell in employment.
IRR Viewpoint 2019 can be downloaded for free from IRR's website here. For more information about this year's report, or to access additional IRR research, please visit www.IRR.com
Click here to watch a short video that details the highlights from this report.
About Integra Realty Resources (IRR)
Integra Realty Resources (IRR) is the largest independent commercial real estate valuation services firm in North America, covering more than 60 markets with over 600 employees throughout the United States, and the Caribbean. The firm specializes in real estate appraisals, feasibility studies, market studies, expert testimony, and related property consulting services. Many of the nation's largest and most prestigious financial institutions, developers, corporations, law firms, and government agencies are among IRR's clients. In 2018, IRR completed more than 27,000 assignments across 60 metro markets totaling more than $300 billion in asset value. For more information, visit www.IRR.com