James Andrews Appointed Senior Managing Director of IRR-Miami | Caribbean Office Aug 6, 2019
FOR IMMEDIATE RELEASE
James Andrews Appointed Senior Managing Director of Integra Realty Resources Miami | Caribbean Office
Appraisal Industry Veteran Will Serve as Integra's Regional Market Leader throughout South Florida and Caribbean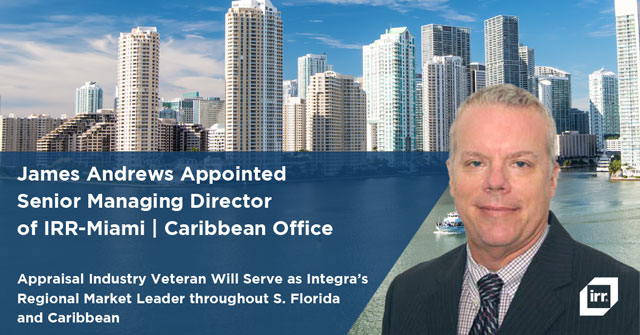 DENVER, CO — (August 6, 2019) —Following the appointment of Anthony M. Graziano, MAI, CRE as CEO, Integra Realty Resources (IRR), one of North America's largest independent commercial real estate valuation and consulting firms, today announced James V. Andrews, MAI, CRE, FRICS, ASA/BV is expanding his leadership role as Senior Managing Director of IRR's newly merged Miami | Caribbean office.
Andrews, a 30-year commercial real estate appraisal industry veteran who has managed IRR's four Caribbean offices over the past decade, has relocated to Miami from the Cayman Islands. In his new role, he will serve as regional market leader for Integra throughout South Florida and the Caribbean.
Under Andrews' leadership, the branch offices in the Caribbean will continue normal operations, with Mark Weathers overseeing USVI/BVI; Carlos X. Velez, MAI overseeing Puerto Rico; and Terry Kerslake, FRICS overseeing the Cayman Islands. In Miami, management includes Charles Badell, MAI, who will be heading up the litigation practice, and Virginie Dorris, who leads the market study practice.
"Jim was handpicked to lead our Miami office given his successful track record growing Integra's Caribbean office over the past decade combined with the natural synergies that exist between the South Florida and Caribbean markets," said Anthony M. Graziano, MAI, CRE. "Jim's management and leadership experience combined with his specialty hospitality and business valuation expertise will prove to be a valuable asset for our South Florida team and clients alike. We welcome him to the Magic City."
Andrews has been actively engaged in valuation and consulting for more than three decades, completing assignments in more than 15 countries and territories across the Caribbean region, as well as throughout the United States. Prior to relocating to Miami, he was based in the Cayman Islands for 22 years and managed the four Caribbean offices of Integra since 2012, responsible for overseeing the offices in Cayman, USVI, Puerto Rico and the Bahamas. During his tenure, Andrews has expanded the IRR Caribbean presence to include branch offices in the US Virgin Islands and the Bahamas in 2013; and Puerto Rico in 2017. Prior to joining Integra Realty Resources, Andrews worked with the firm Cardiff & Co. before cofounding Andrews Key Ltd. in 2007, which later became the IRR Caribbean office in 2012.
Andrews manages a diverse valuation practice, with a specialization in business-related real estate such as hotels, resorts, and other going concern properties including marinas, golf courses recreational, food/beverage outlets and healthcare. He is also currently a co-national practice leader of the Integra Hotels Specialty Practice Group. In addition to his property valuation credentials FRICS and MAI, he is also qualified though ASA in business valuation and provides appraisal of operating companies, holding companies, limited partnerships, trusts, partial interests and intangible assets.
For more information, please visit www.irr.com/miami.